Program
The participants will be welcomed at the Rockefeller campus on Monday, June 27th from 12 am. Conferences will start on Monday, June 27th at 2 pm and will finish on Friday, July 1st at 12:20. The scientific program will include invited conferences and short oral communications (15 min + 5 min of questions) selected from several calls of contributions. Posters sessions are also scheduled.
At the end of a session dedicated to the use of theoretical chemistry in the industries, a discussion will be organised on the employability of young researchers trained to theoretical chemistry in the industries.
Visits are scheduled on Wednesday afternoon and a gala dinner is organized on Thursday evening.
New:
In collaboration with
NVIDIA
, a K40 Graphic card will be awarded to the best poster dealing with GPU applications or developments.
Schedule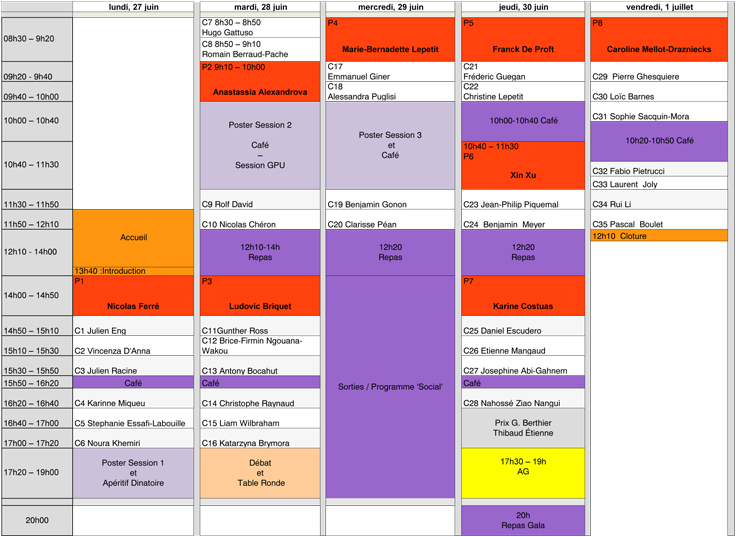 Monday, June 27
11h50-13h40

Accueil

13h40

Ouverture Paul Fleurat-Lessard + présentation Comité Organisation

P1.1


Président de séance : Pr. Vincent Robert



14h00-14h50
P1 : Nicolas Ferré
Propriétés magnétiques des radicaux : modèles et analyses
14h50-15h10
C1 : Julien Eng
Magnetic Relaxation in Single Ion Magnet
15h10-15h30
C2 : Vincenza D'Anna
Structural study of the Ziegler-Natta pre-catalyst
15h30-15h50
C3 : Julien Racine
Electronic (De)Localization: VB for Ground as well as Excited states
15h50-16h20

Pause Café

P1.2


Président de séance : Pr. Christophe Morell



16h20-16h40
C4 : Karinne Miqueu
Mechanistic studies for migratory insertions into Gold(I) or Gold(III) complexes. A joint theoretical/experimental approach
16h40-17h00
C5 : Stéphanie Essafi-Labouille
Étude de la réaction FeO+ + H2 → Fe+ + H2O par dynamique moléculaire
17h00-17h20
C6 : Noura Khemiri
Etude théorique de la synthèse de la fulleropyrrolidine
17h20-19h00
Poster Session 1
Apéritif dinatoire
Tuesday, June 28
P2.1




Président de séance : Pr. Nicolas Ferré



08h30-08h50
C7 : Hugo Gattuso
Thorough theoretical study of the alkaloid chelerythrine interacting with B-DNA
08h50-09h10
C8 : Romain Berraud-Pache
Calcul QM/MM sur un nouvel émetteur de la luciférine
09h10-10h00
P2 : Anastassia Alexandrova
Metalloenzyme evolution and design through multi scale modelling
10h00-11h30
Poster Session 2 - Pause Café
Session GPU

P2.2




Président de séance : Dr. Aurélien De La Lande



11h30-11h50
C9 : Rolf David
Formation du peroxyde d'hydrogène dans la superoxide reductase par métadynamique QM/MM
11h50-12h10
C10 : Nicolas Chéron
On the role of water in enzyme catalysis
12h10-14h00

Repas

P3.1



Présidente de séance : Dr. Céline Chizallet

14h00-14h50
P3 : Ludovic Briquet
Industrial Applications of Atomic-Scale Modelling in Catalysis: The case of Johnson Matthey
14h50-15h10
C11 : Gunther Ross

15h10-15h30
C12 : Brice-Firmin Ngouana-Wakou
Identification des sites d'adsorption à l'interface alumine-gamma/eau par dynamique moléculaire ab initio
15h30-15h50
C13 : Anthony Bocahut
Modélisation des processus de relaxations secondaires dans les Polyamides aliphatiques et semi-aromatiques
15h50-16h20

Pause Café

P3.2



Présidente de séance : Dr. Karine Costuas

16h20-16h40
C14 : Christophe Raynaud
Learning on the Electronic Structure of Schrock Alkylidene Metathesis Catalysts from NMR Chemical Shift Analysis
16h40-17h00
C15 : Liam Wilbraham
Modelling photophysical properties of molecular crystals using a self-consistent charge adjustment procedure
17h00-17h20
C16 : Katarzyna Brymora
Theoretical design of near - infrared organic compound
17h20-19h00
Débat et Table Ronde
Wednesday, June 29
P4.1



Président de séance : Dr. Peter Reinhardt

08h30-09h20
P4 : Marie-Bernadette Lepetit
Calcul ab initio du tenseur de couplage Magnéto-électrique
09h20-09h40
C17 : Emmanuel Giner
Spin density in open shell systems: the role of spin polarization and spin delocalization
09h40-10h00
C18 : Alessandra Puglisi
Theoretical ab-initio study of inner shell excited molecular ions
10h00-11h30
Poster Session 3 - Pause Café

P4.2



Président de séance : Dr. Manuel Corral-Valero

11h30-11h50
C19 : Benjamin Gonon
Description quantique de l'ouverture de cycle du spiropyrane
11h50-12h10
C20 : Clarisse Péan
Adsorption de polymères sur des surfaces de silice
12h20-14h00

Repas

14h00-19h00

Sorties - Programme 'Social'
Thursday, June 30
P5.1



Président de séance : Dr. Julien Pilmé

08h30-09h20
P5 : Franck De Proft
Conceptual and Computational Quantum Chemistry Approach to Chemical Reactivity : Recent Applications in Inorganic and Organic Chemistry
09h20-09h40
C21 : Frédéric Guegan
Vers une première échelle théorique de l'effet trans dans les complexes octaédriques
09h40-10h00
C22 : Christine Lepetit
Interactions métal-metal en tout début de synthèse de nanoparticules. Caracterisation ELF, AIM et NCI
10h00-10h40

Pause Café

P6.1



Président de séance : Pr. Xavier Assfeld

10h40-11h30
P6 : Xin Xu
Towards the accurate and efficient theoretical modelling in heterogeneous catalysis
11h30-11h50
C23 : Jean-Philip Piquemal
Simulations de dynamique moléculaire polarisable massivement parallèles avec le code Tinker-HP
11h50-12h10
C24 : Benjamin Meyer
Extracting correlation effects from X-ray diffraction data: dream or reality?
12h20-14h00

Repas

P7.1



Président de séance : Dr. Tangui Le Bahers

14h00-14h50
P7 : Karine Costuas
Études en chimie quantique de composés métalliques pour l'optoélectronique ou électronique moléculaire
14h50-15h10
C25 : Daniel Escudero
Computational investigations of the excited-states of organometallic complexes
15h10-15h30
C26 : Etienne Mangaud
Dynamique quantique de transferts d'électron dans des systèmes environnés à fort couplage
15h30-15h50
C27 : Josephine Abi-Ghanem
RNA gas phase rearrangements revealed by molecular modelling and ion mobility spectrometry
15h50-16h20

Pause Café

P7.2



Présidente de séance : Pr. Céline Léonard

16h20-16h40
C28 : Nahossé Ziao Nangui
Structure moléculaire,spectres vibrationnels et analyses RMN de deux complexes de ruthénium par calculs DFT
16h40-17h20
Prix G. Berthier : Thibaud Étienne
Modélisation de propriétés liées aux états électroniques excités de systèmes moléculaires complexes par la chimie quantique
17h30-19h00

AG

20h00

Repas GALA
Friday, July 1
P8.1



Président de séance : Dr. Franck Rabilloud

08h30-09h20
P8 : Caroline Mellot-Drazniecks
Fonctionnalisation de solides hybrides pour la photocatalyse et la reconnaissance moléculaire : Exemples d'approches combinées théorie-expérience
09h20-09h40
C29 : Pierre Ghesquiere
Diffusion et piégeage dans les glaces interstellaires
09h40-10h00
C30 : Loic Barnes
Approche rapide et précise pour calculer les corrections anharmoniques aux fréquences vibrationnelles
10h00-10h20
C31 : Sophie Sacquin-Mora
Great interactions: binding incorrect partners to learn about protein recognition and function
10h20-10h50

Pause Café

P8.2



Présidente de séance : Pr. Anne Milet

10h50-11h10
C32 : Fabio Pietrucci
A unified theoretical approach to chemical reactions in gas phase and in solution
11h10-11h30
C33 : Laurent Joly
Ab initio modeling of liquid-solid friction for nanofluidic applications
11h30-11h50
C34 : Rui Li
Structures of free and supported clusters from GSAM
11h50-12h10
C35 : Pascal Boulet
Electronic transport in Mg2Si semiconductor under strain
12h10
Clôture - Paul Fleurat-Lessard (et l'équipe RCTF2018)